EEk! I have no idea why I never started a blog! Anyway, welcome to my blog.
I've been making jewelry for 4+ years now, and I finally get the idea to start writing about it so people can get to know me on a personal level, see what's up besides just pumping out pieces.
Jewelry making is my hobby, and I started it in high school. I remember seeing ribbon cell phone straps on STRAPYA and I fell in love with the design. I started making earrings like that.
This was my first pair of earrings ever: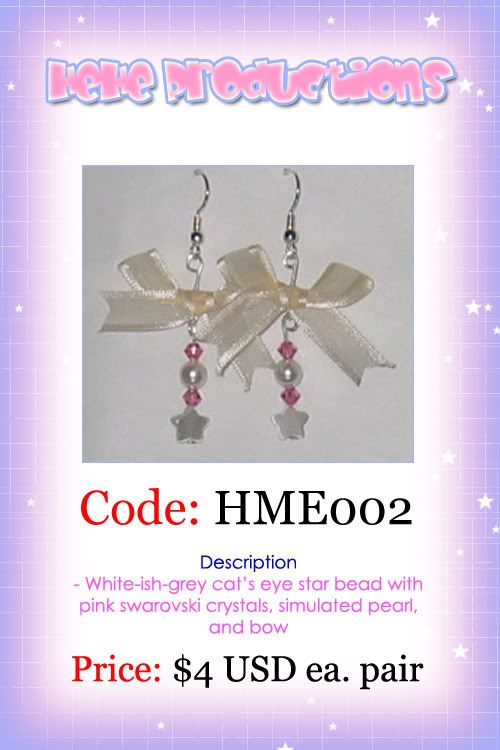 I know, looking back on it, I'm a little embarrassed. The metal circles that connect the beads together are more like ovals.
A note to my first customers: I've improved! I promise!
Recently, I've been really into polymer clay flower o_O. I went crazy with them, and did all sorts of stuff: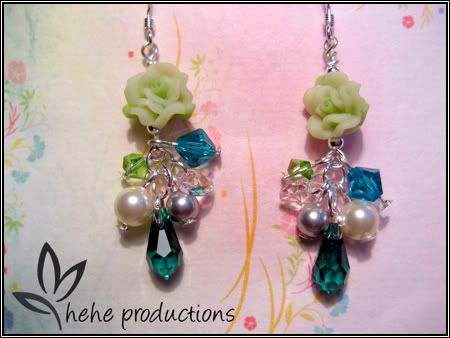 And these are really pretty-- I'm starting to mix materials, and finding that it looks pretty good! Made with Czech glass and Swarovski Crystals.
-------------------------------------------------------------------------------
Also, I'm hosting a Giveaway!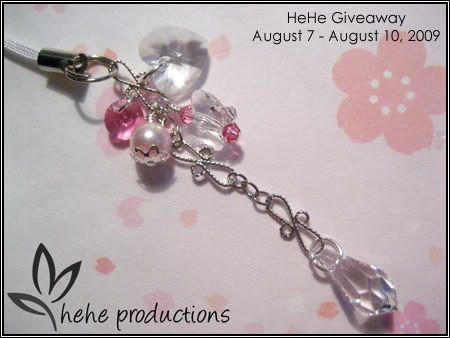 Dainty Swarovski Crystal Cell Phone / Purse Charm
by HeHe Productions
Handmade with SWAROVSKI Crystal heart, butterfly, pearl, flat round, and teardrop.
The material of the chain is base metal, and the entire charm measure aprox. 6.5 cm in length.
This give away is VERY quick, the winner will be announced on August 10, 2009 at 10 PM Pacific Time. (You'll get an E-Mail)
How to Enter:
1. Post the photo above w/ description. Mention that I'm doing this giveaway for ALL entries received between August 7 and August 10, 2009. EVERYONE is encouraged to enter. Please be either at least 18, or have parent permission.
2. Link them to my store: heheproductions.ecrater.com
3. Mention that everything is handmade, and I do take custom orders. Also let people know that if they win, they'll get an E-Mail from me. If not, you won't get an E-Mail.
4. Post this on your blog, OR make a quick YouTube video on it.
5. E-Mail me the link to your blog/YouTube vid. once you've completed the steps above. Include your full name and shipping address in case you win. Please be sure to title your E-Mail "HeHe Giveaway August 7 - August 10".
My E-Mail is:
hehe.productions@hotmail.com
Questions? E-Mail me:
hehe.productions@hotmail.com
--------------------------------------------------------------------------------
Once I get 30 followers, I'm going to have another Giveaway!
For more creations, visit my website!
- Lisa
heheproductions.ecrater.com