Hello everyone! It's Giveaway time again!
EDIT August 26, 2009
Thanks to everyone who's entered so far! I'll be giving away BOTH prizes.
On top of the prizes listed, I'll also be giving out some other goodies with the packages.
Thanks for your support!
HOW TO ENTER:
1. You must be a follower of heheproductions.blogspot.com
2. SPREAD THE WORD ABOUT HEHE PRODUCTIONS! Publicize this giveaway by posting it on your blog. Link back to my blog & website: heheproductions.ecrater.com IF you don't have a blog, mention this ANYWHERE! Youtube, Xanga, Facebook, whatever.
3. Send me an E-Mail titled "HeHe Giveaway 2" with the following info: Your full name, link to your "spread the word" entry, and link to your favorite HEHE piece on my official ecrater website. E-Mail: hehe.productions@hotmail.com
Any questions? E-Mail me! For every 20 people that enter, I will put up a NEW piece of jewelry/accessory up for grabs! Keep yourself updated about this by following my blog!
And this is what I'm giving away if 20 people enter: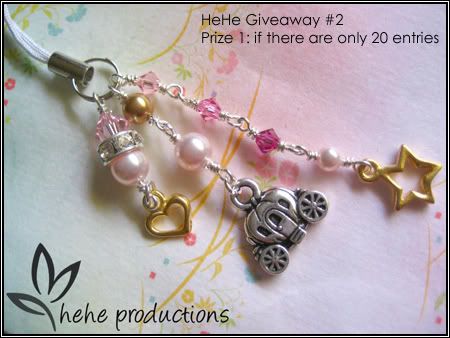 Item description:
Cinderella pumpkin carriage phone/purse charm. Features an antique silver pumpkin carriage charm, SWAROVSKI bicones, pearls, roundelles, and gold plated open heart and star charms. Measures aprox. 6 cm in length, $13 Value.
And if I get 40 entries, I'll be giving away the Cinderella Charm as well as this SWAROVSKI pearl bracelet: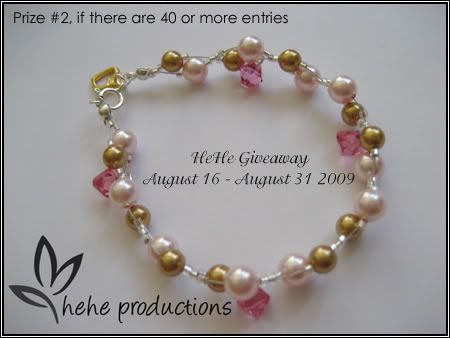 Item Description:
SWAROVSKI pearl bracelet. Features 6mm and 5mm SWAROVSKI pearls in gold and pink. Also comes with a gold plated open heart charm, and 6mm SWAROVSKI bicone dangles in rose. Accented with silver Japanese delica beads. All metal components are sterling silver. Bracelet measure aprox. 7 inches in length.
New necklace and ring: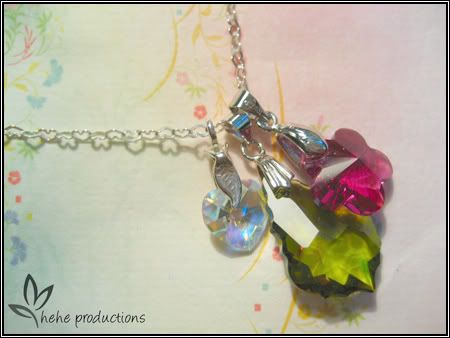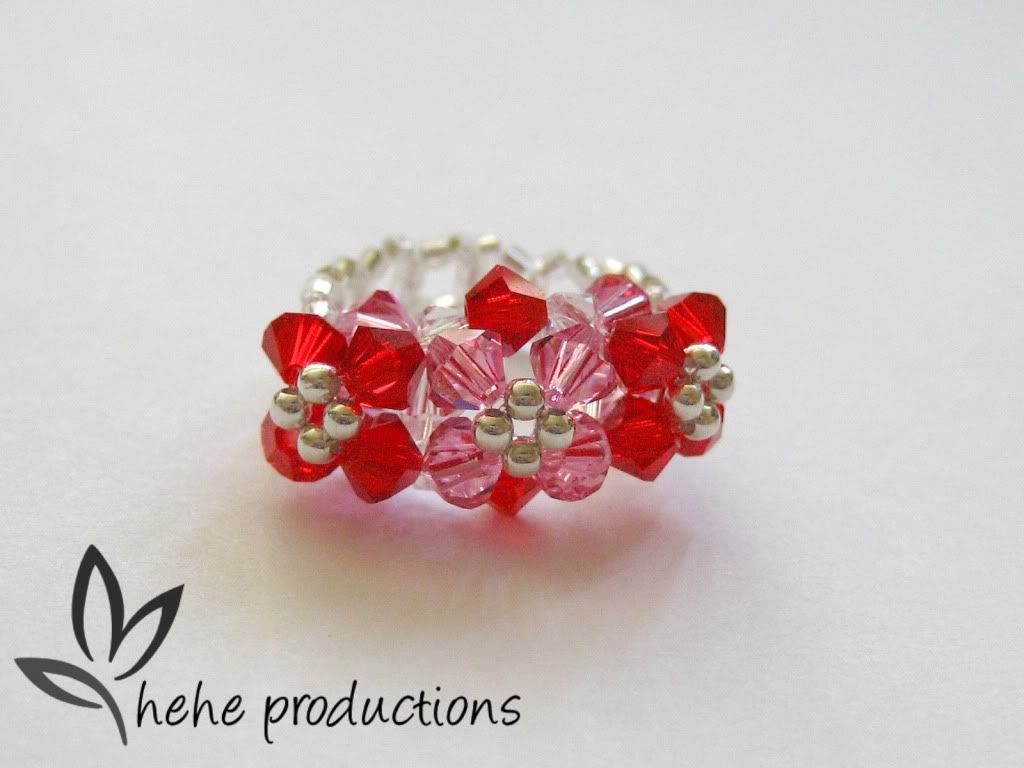 Thanks, guys! Enjoy! If you have any questions, please email me:
hehe.productions@hotmail.com
And don't forget to visit my site: heheproductions.ecrater.com
Good luck on the giveaway! I'll be holding a drawing via YOUTUBE to pick the winner(s) on September 1st!
- Lisa