I had planned to get up relatively early and study today.
When I got up at 8, I did nothing for 15 minutes. Internet was down till 9... and then instead of studying, I spend all day making quilled
MESSAGE CARDS
for the website.... and making bracelets.
According to
Wikipedia
,
Quilling
or
paper filigree
is an
art
form that involves the use of strips of
paper
that are rolled, shaped, and glued together to create decorative designs. The paper is wound around a quill to create a basic coil shape. The paper is glued at the tip and the coil shaped, these shaped coils are arranged to form flowers, leaves, and various ornamental patterns similar to ironwork.
It's relatively simple to learn, but looks so, SO cool. The only downside is you need to buy quilling paper (which is kind of hard to find in stores, so I bought mine online)
Here's a CLOSE UP of one of the message cards!
See all the cards
HERE
.
Basically, you have the choice of adding one to your order, and you can customize your message. Thought this would be a really cute addition to any gift =). It's also super cute, so it'll probably end up being a keepsake ;)
I got a new toy in the mail today.
Biggest/heaviest package I've EVER received. There was supposed to be a 5-6 week wait on these babies, but somehow I ended up getting them within 1 week... OH WELL, good news =)
Say heeeeeeeeelooooooooo to my new
BOWFLEX SelectTech
weights!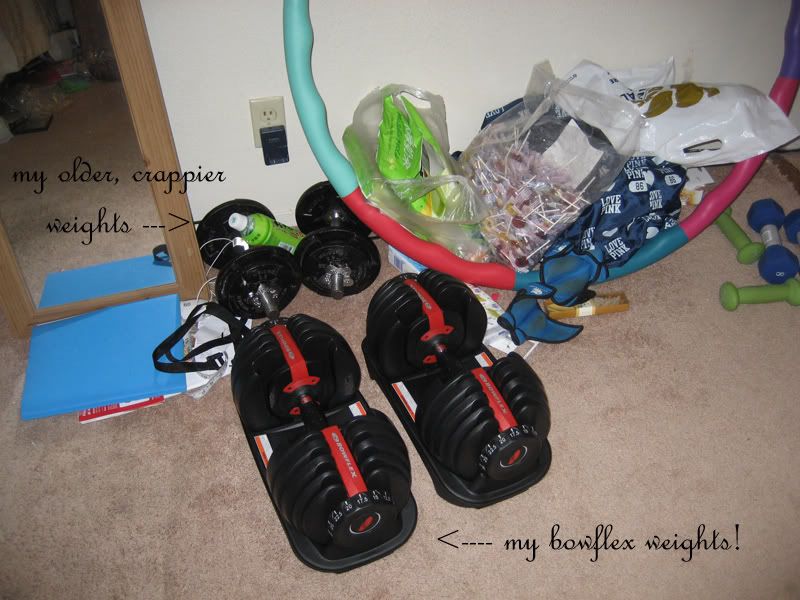 These are fricken AMAZING. The engineering is AWESOME, and I'm a huge fan of practical gadgets, as well as working out, so I finally invested in these. I got the 552 dumbells, which go up to 52.5 lbs each-- I won't need to go that heavy (the most I'm currently using is 20lbs on each hand, for squats), so these will be GREAT for the bf when we move together next year. Instead of having all separate dumbells, these are all in one, the dials on the sides click in to whatever weight you want. SO AWESOME.
I've already used them once, and I'm completely, head over heals in love with these. Best investment in my fitness since... fitness videos. I'm currently doing
CHALEAN EXTREME
.
Anyway, if you have any questions about these awesomenesses, don't be shy to ask me! I'm also relatively fit, so if you have fitness questions, ask away, as well!
BTW, you can see my new 5lb bag of lollipops (Yummy Earth!) from Amazon, which I'll be giving away with orders! Also, there are the Matcha drink bags I've also been giving away with purchases.
I also added 2 bracelets to the collection.
See them
.
Also, Jen's Feather earrings are
IN STOCK
. VERY LIMITED SUPPLY. 4 pairs left, first come first serve!
Have fun looking at all the new pieces!!
Do you own the SelectTech weights? If so, how do you like them over time?
Brian is coming over, so I'm going to be spending some time with him this weekend.
Have a wonderful weekend, everyone!
- Lisa
heqicrystaldesigns@hotmail.com
SHOP HE QI
TWITTER
FORMSPRING
Facebook