I randomly chose a winner for the
BOW RING
giveaway.
Congrats to
xoladiihoneyxo (HI LINDA!, hope your puppy/you are doing well)
I hope you can wear this, since it's not gold filled. I remember us talking a while back and I believe you mentioned you can't wear anything that's just plated? :\
Please email me your full name & shipping address!
My lovely new friend on blog, Alyssa, and I did a materials swap! She sent me these cute bows, which I've incorporated into these two new pieces: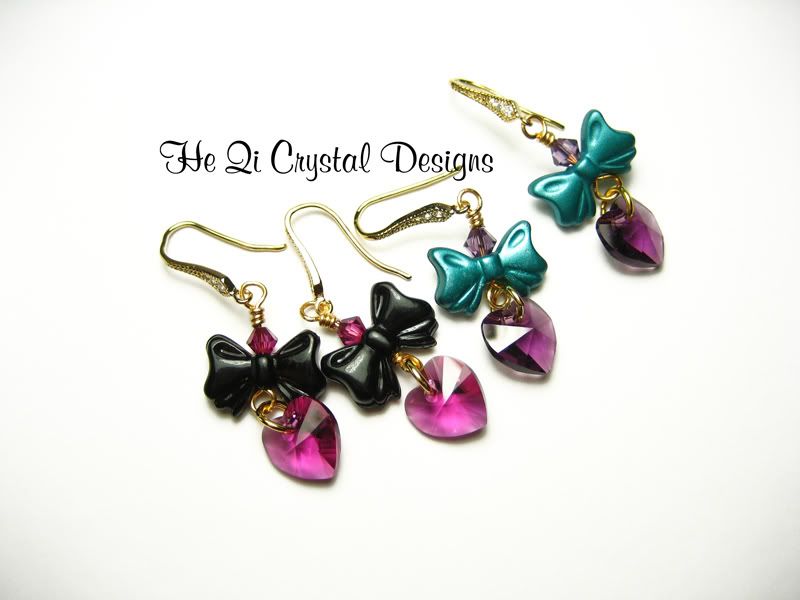 The hooks are the beautiful CZ accented gold plated over brass hooks.
Oh yea, thought I'd mention this, because every once in a while, I get an email regarding my prices :P
Sure, IF I did not rely on the profit I make from this business, then I would not care so much about keeping my prices at a certain minimum. I don't live with my parents, and I don't bum money off my parents. Whatever I make is how much I have to spend during the month. I know there are hobbiests out there who just sell their items for materials price-- good for them. I'm not one of them. I can't be if I want food, shelter, entertainment. This is my official part-time job. If you have an issue with how "expensive" my pieces are, please, there are plenty of other jewelry artisans to buy from. I try to price reasonably, and if that's out of your range, I can't help, sorry :(
Thank you for your courtesy and understanding regarding this matter.
Enjoy!
I'm off to read a 550 page book my Tuesday, do homework, and read 50+ pages of textbook material.
nite nite!
- Lisa
heqicrystaldesigns@hotmail.com
SHOP HE QI
TWITTER
FORMSPRING
Facebook