Went to my first takoyaki party Saturday night!
We gathered at Brian's co-worker's place to make tonsssssss of takoyaki. According to
wiki
....
Takoyaki (たこ焼き or 蛸焼) (literally fried or grilled octopus) is a popular Japanese dumpling made of batter, diced or whole baby octopus,tempura scraps (tenkasu), pickled ginger, and green onion, topped with okonomiyaki sauce, ponzu, mayonnaise, green laver (aonori), andkatsuobushi (fish shavings), first popularized in Osaka where a street vendor named Endo Tomekichi is credited with its invention in 1935 [
Keith lived in Japan for a while, and he has a takoyaki pan! It's basically a coil-heated "pad" on the bottom, with a many-half-circles-mold pan stuck on it.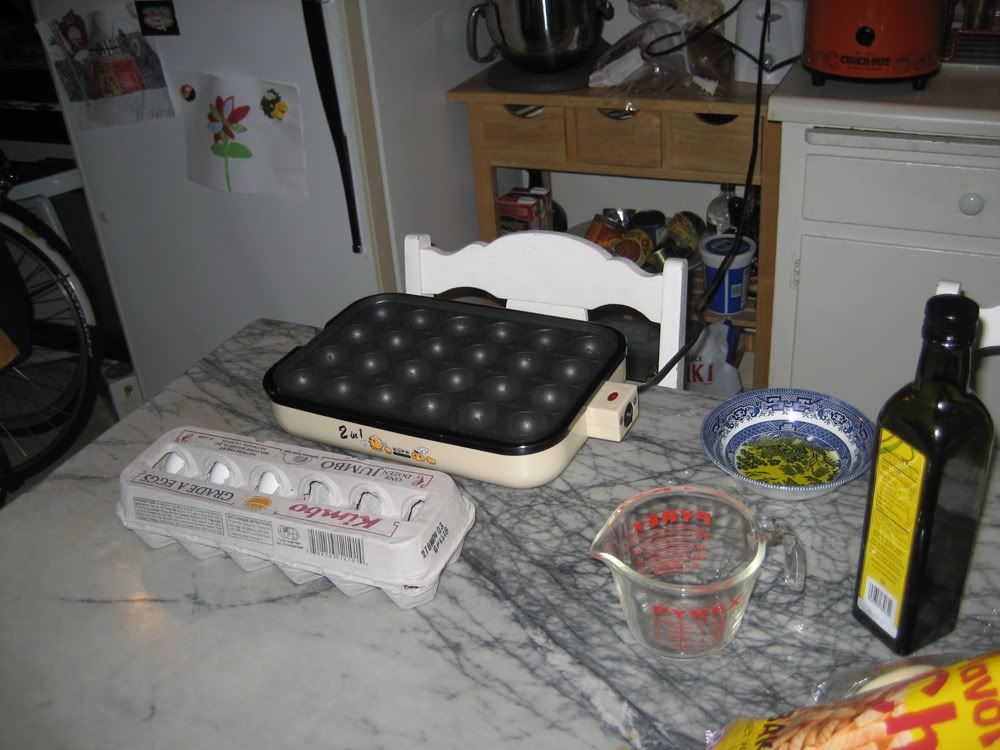 First, you oil the pan: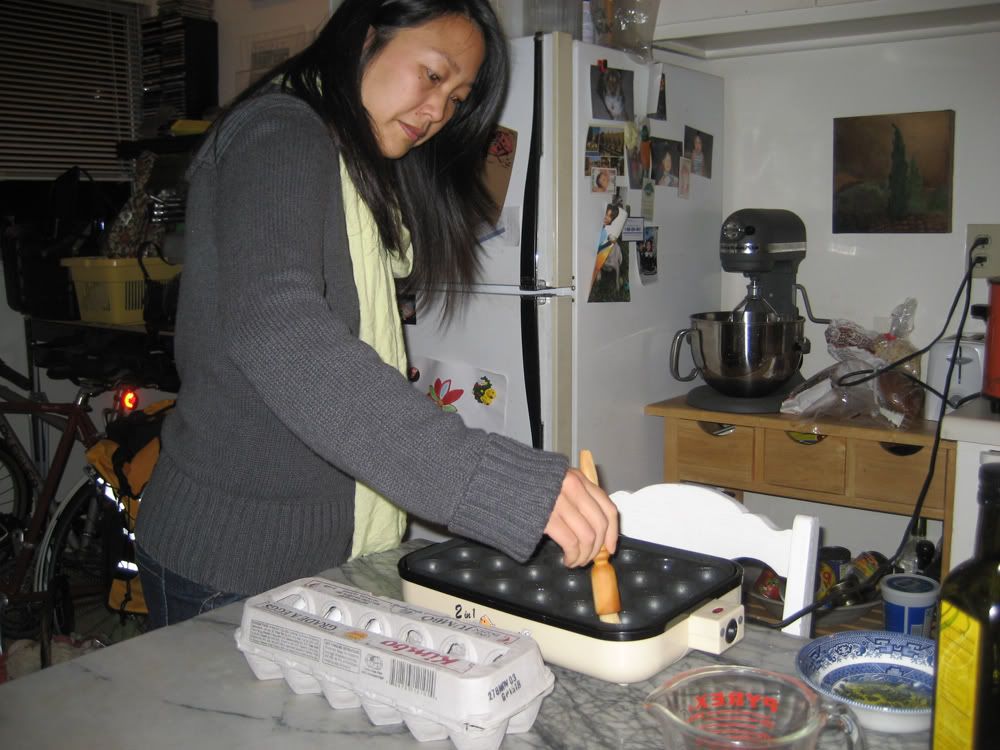 Pour the takoyaki batter into the pan: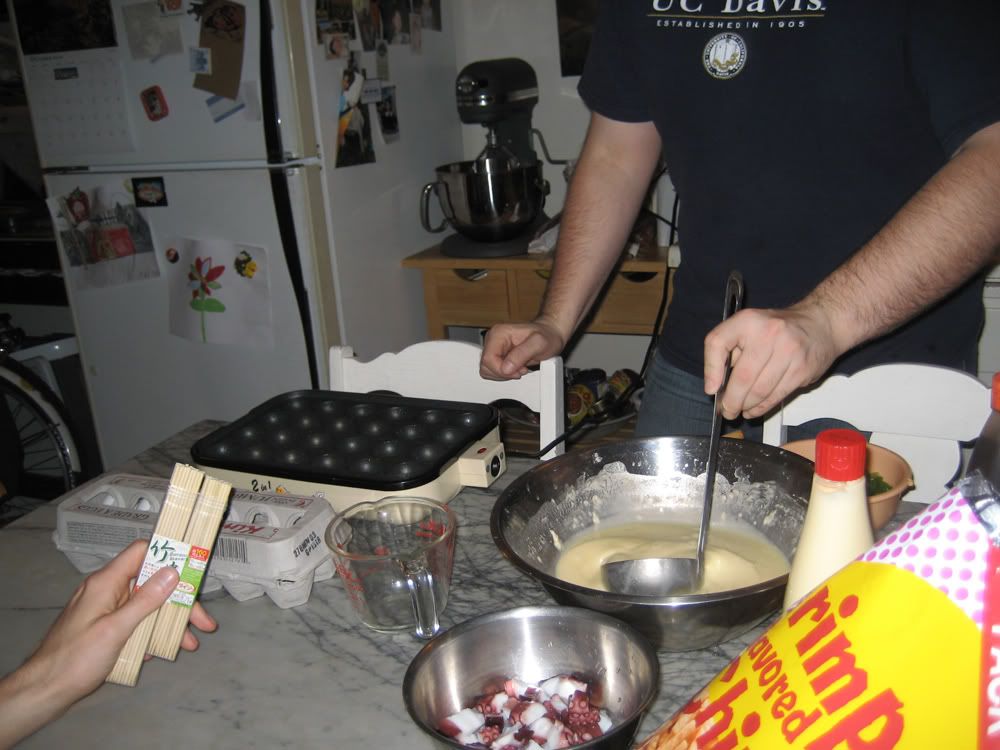 Add whatever filling you'd like: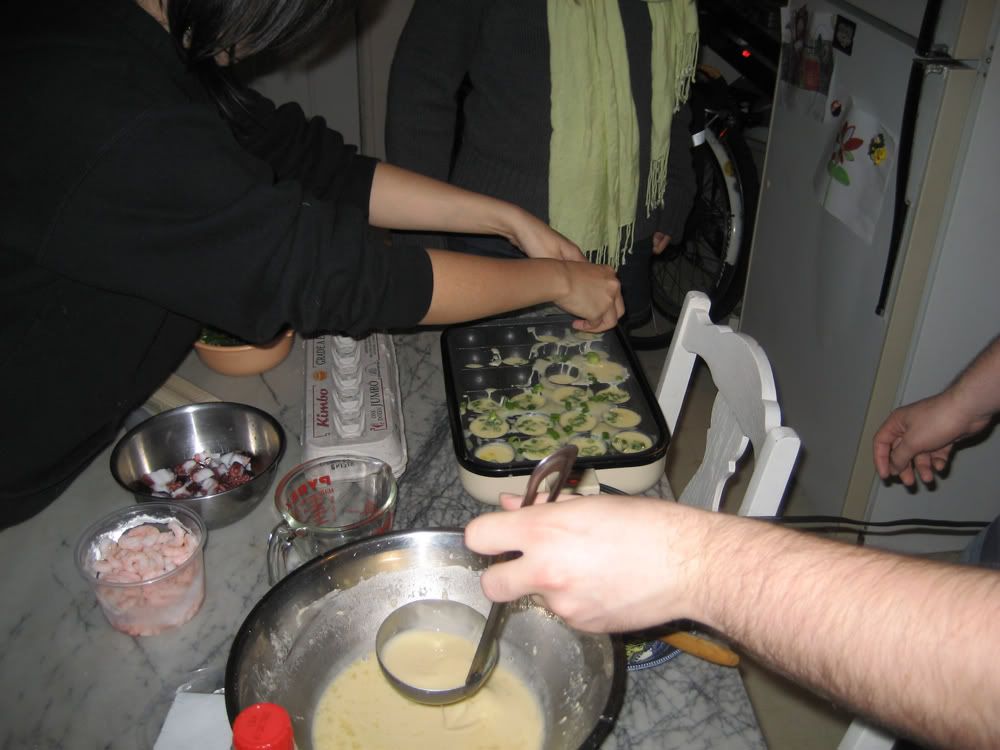 I'm the one in black, on the left of the photo with both my hands spreading green onions over the pan, lol
We used a variety of filling including: green onions, tako (octopus), sausage, shrimp yum yum yum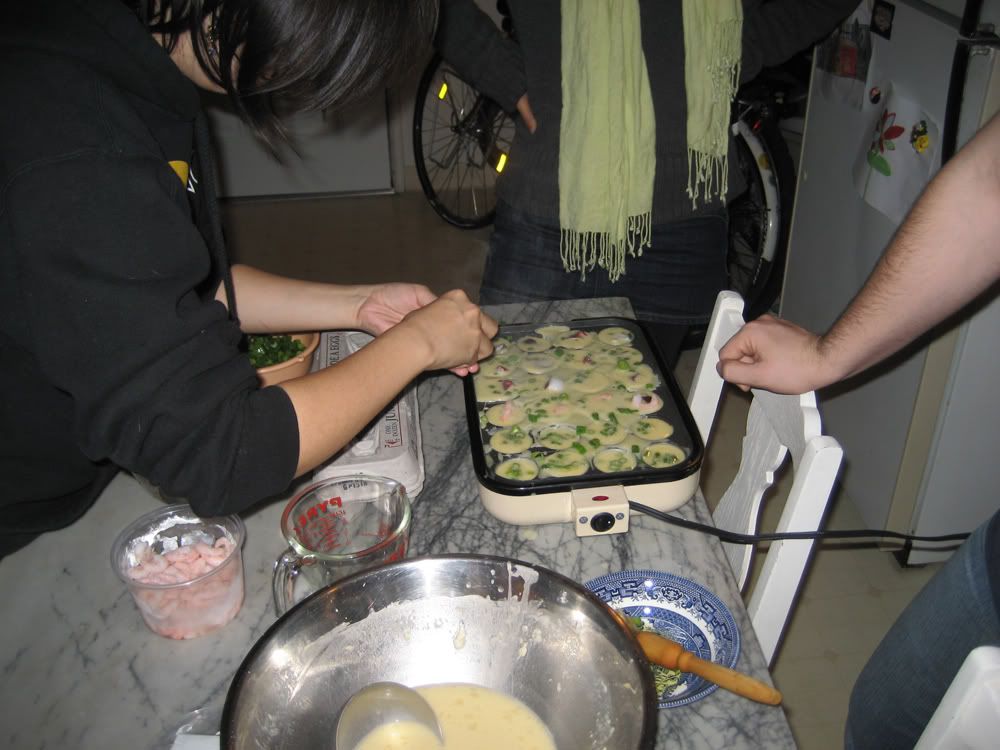 Then you wait...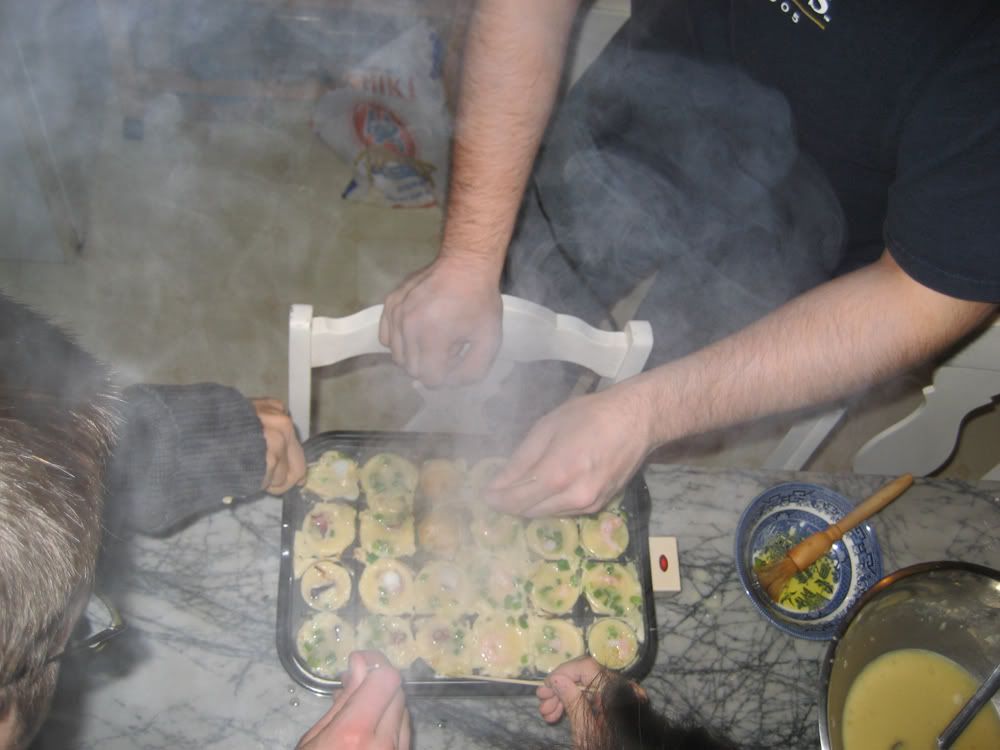 For the batter to cook and solidify a little..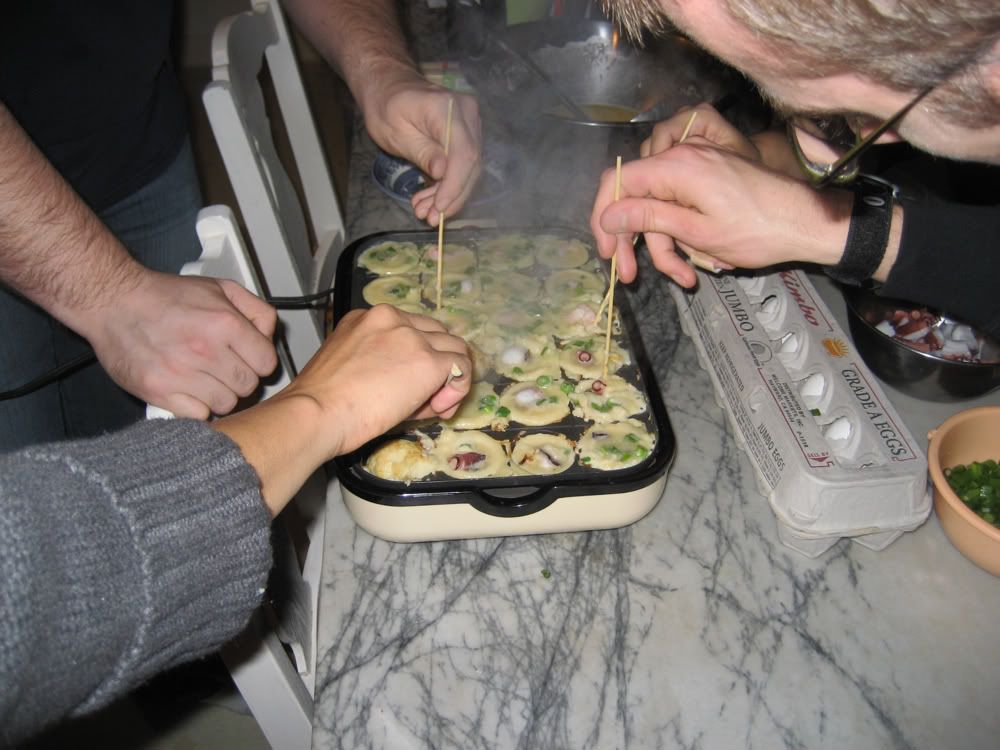 Before you start forming the balls! You take the sticks and basically swirl it around the circle shape and "flip" the balls over to cook on the other side: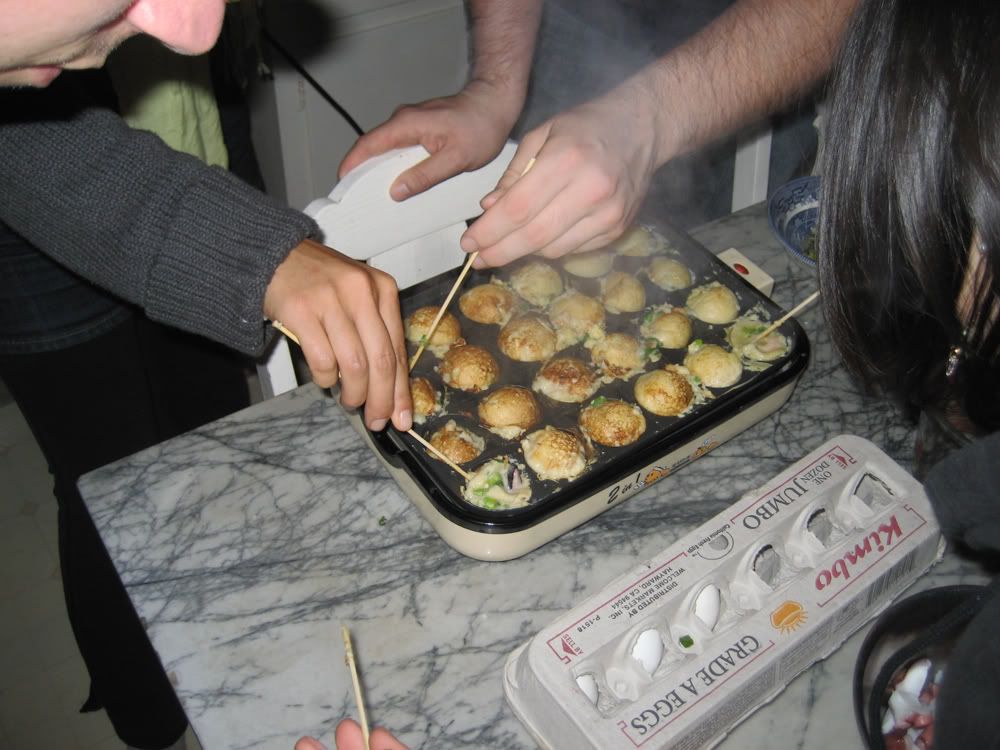 The heat coil wasn't even on all sides, so we ended up with beautiful takoyakis and .... ugly ones on the corners, lol.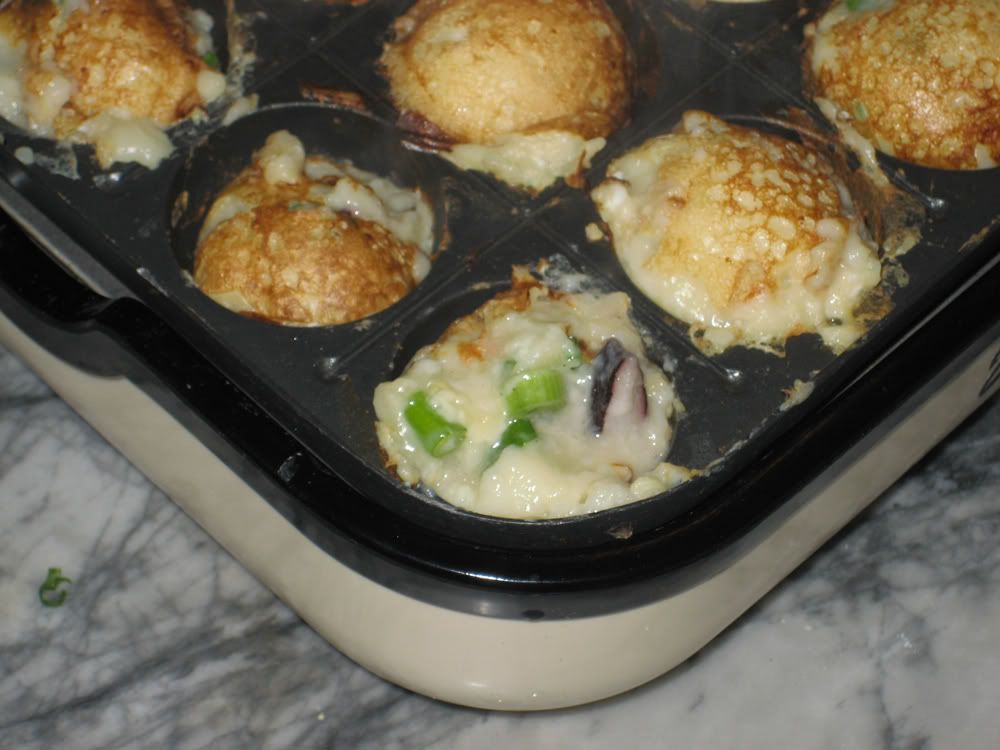 But overall, it was delicious and we really started to get the hang of it after the first batch!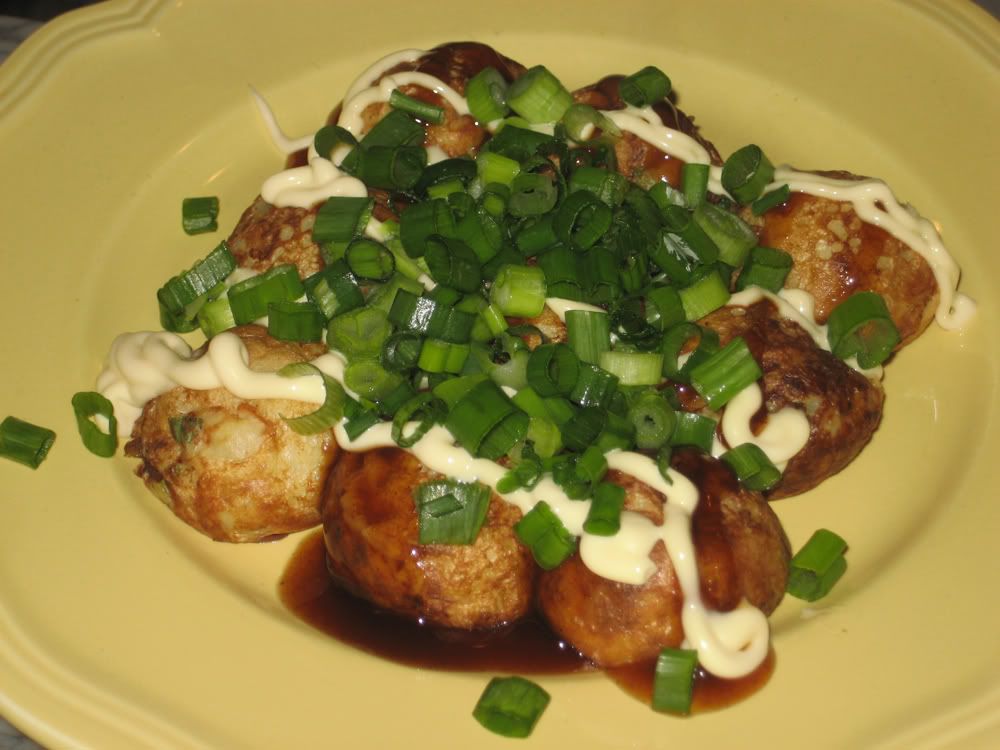 I think I had at least 20 takoyakis that night. I'm not craving any more, but I do want to get a pan now, lol.
If you want to find out more about takoyaki, try youtubing! You can see pros on the streets of Japans flipping these like mad! It's very cool to watch :D
And here'a clover bracelet, the one I briefly mentioned last post =)
These are the last of my crown toggle clasps-- so if you want em, get em now, cause I probably won't be getting any more for quite a while.
I also made on in Crystal AB: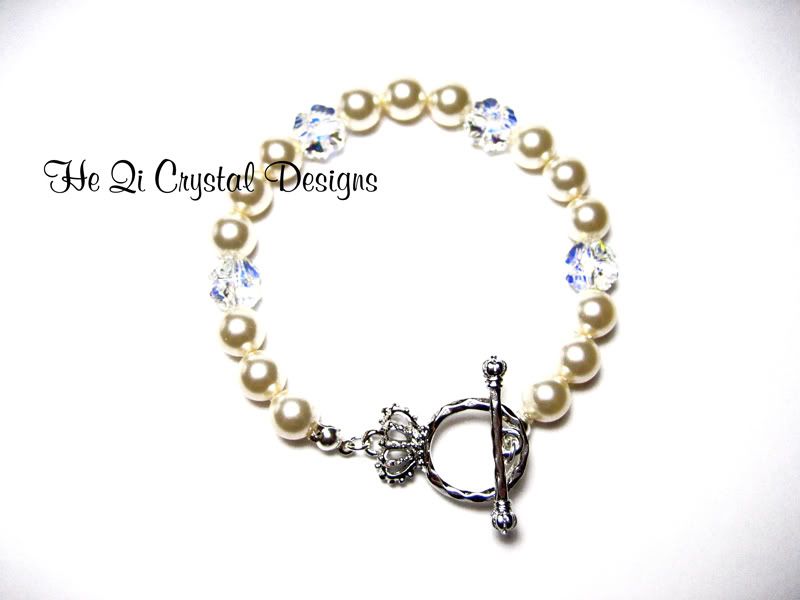 ...... but I lost it somewhere......... I was wearing it out and I was putting layers of clothing on and off, it got lost in the madness.
IN OTHER NEWSSSSSSSSSSS
I GOT MY COSTUME! YAEAHAHAH! I'm in class so I can't take a photo, but I'll show you later =)
To celebrate Halloween, take 5% off your $20 or more order with code:
heqihallows2010
Expires Oct. 31,2010
What are YOUR Halloween plans this year? ;)
- Lisa
heqicrystaldesigns@hotmail.com
SHOP HE QI
TWITTER
FORMSPRING
Facebook