The second these new SWAROVSKI elements came out, I jumped on them!
Introducing the Everyday Classic, Wild Hearts.
These are an upgrade from the regular Everyday Classic heart-- a big upgrade! The wild hearts are 3-4 times the price of regular 10mm hearts.
These wild hearts are slightly larger, and have tons more facets than the original hearts. Now, if only they'll come out with more colors... need patience...
They come with sterling silver bails (unseen on the regular heart earrings), making them slightly longer.
And I brought the Baroque shape back because there were lots of requests for it:
And a clover bracelet! Featuring the NEW clover bead =)
And the cutest mother of pearl cat beads .... made into earrings with other very cute components: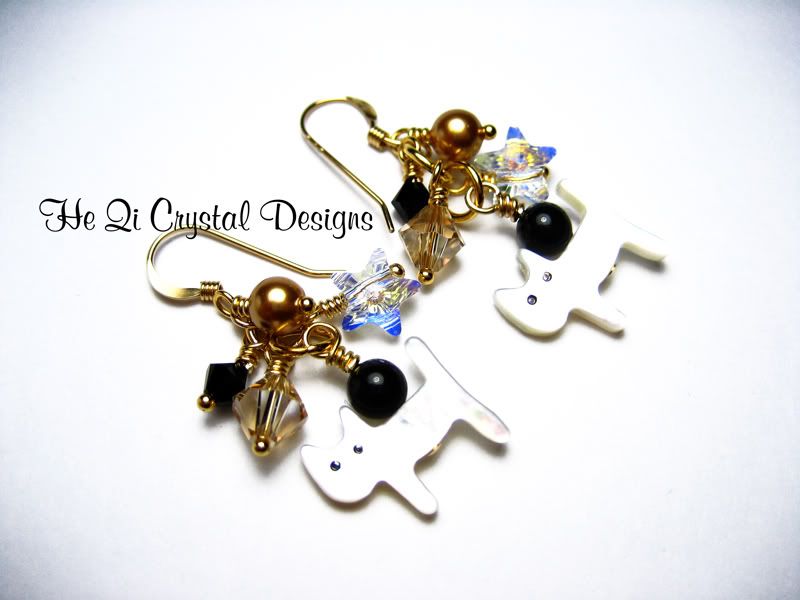 Also made another OOAK pair of earrings:
Enjoy! I'm off to finish a challenging hw assignment that's due tmrw, and I'll be announcing the giveaway winner tmrw as well, stay tuned!
See something you like in this post? ACT FAST, because I only 1-2 of each of these designs, MAX!
SHOP
HERE
.
I'm still doing the goodie bag giveaway with all orders over $50! It's the LAST DAY. See previous post for gift with purchase details =)
love,


Lisa


heqicrystaldesigns@hotmail.com
SHOP HE QI
TWITTER
FORMSPRING
Facebook