laksjdflkasjdf;kja;sdkcvnasdk!
I seriously did nothing but sit at my computer for hours, hours, hours since Tuesday night transferring each product from E-Crater to my new, official website:
I've put my ecrater site on hold. NO MORE ORDERS will be accepted through heheproductions.ecrater.com!
www.shopheqi.com
Help spread the word about the new page! If you're linking from your page, use this photo please
The image's link is: http://www.shopheqi.com/images/logo/30174_logo.jpg
GO GO GO!
If you register for an account, I can keep track of how much you spend-- and later on, these will go towards a bonus rewards program I'm trying to implement soon.
First 3 people to place orders on there get 10% off their entire order w/ code:
FIRST3
Use don't forget to apply that during checkout! GO NOW! haha =)
If you miss this code, go ahead and use this code, which doesn't expire till Oct. 1, 2010!
Code:
OPEN5OFF
Some of the things that I had on E-Crater won't be offered anymore-- sorry! Whatever I have up on the website may change in the next couple of days-- I'm still trying to add all my stuff on there! But for the most part, whatever I plan to put on there is already there... with the exception of the handmade beauty products :X
Also, if you've purchased in the past, I'd be honored if you would be a product review! Just click on whatever you ordered (if it's still available), and write your honest thoughts & opinion.
If you catch and bugs or hiccups, let me know!
Other updates:
Wee Lil Stars comes in PINK, SAPPHIRE & RED now!
Check them out
HERE
.
And a new pair of earrings: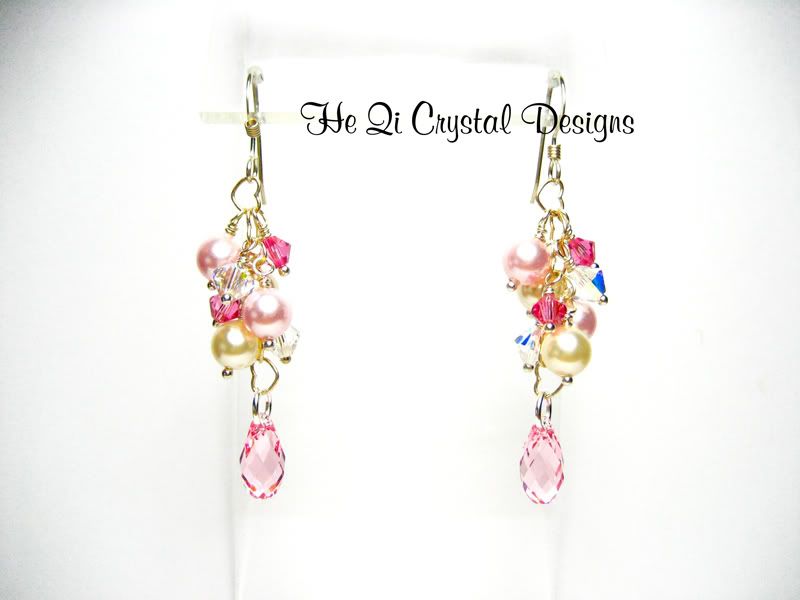 Okay, I'm back to work on the website some more. Need to add more clay masks and all that good stuff.
Talk to you all later!
- Lisa
heqicrystaldesigns@hotmail.com
SHOP HE QI
TWITTER
FORMSPRING
Facebook