Stephanie & I recently did a swap, and she included these lovelies:
THE ICE/JELLY CUBE TRAYS ARE SO CUTE. <3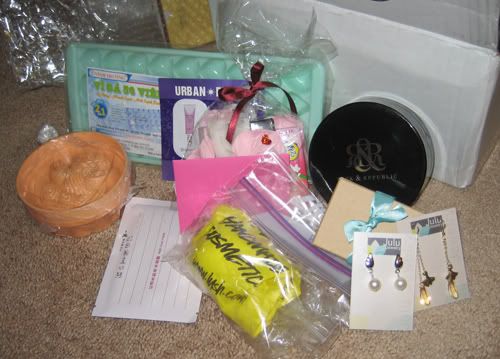 And the R&R blush is SO nice. So nice, I don't even want to touch it yet :(
.... I've already used some of the items before taking this photo, unfortunately. (awesome grapefruit mask from SaSa)
She included these beautiful earrings:
(The wings are so cute!)
The gold ones are some of my FAV from her store.
Steph has some really quality, unique & affordable work. Visit her HERE.
Also made 2 new addition to my
WEBSITE
.
These are such a classic, mature piece. Loaded with a surprising range of crystals-- greige/grey is one of the most fashionable colors of the season! Classic beauty =)

And a cute charm:
Lots of you guys have been asking for more charms-- promise I'll have more over the next couple of weeks. I know these make great gifts, and we all know what's coming up soon (doesn't time just fly?).
Valuable Holiday (or whenever.. ) Coupon:
I really, desperately, need everyone to shop early for the Holidays, haha. PLEASE! *puppy eyes*. I get completely swamped with orders, PLUS I have finals to study for :X
... to encourage shopping early, I'll put out a coupon that lets you take 15% off your order of $200 or more. Why $200? That's pretty average for people who place He Qi Holiday orders. I know it sounds like a high minimum, but remember, there are NO hidden costs-- I absorb all the cost of shipping, packaging, time, gas, etc. It also includes clearance items. Use code: EARLYBIRD2010 during checkout to get the discount! The coupon expires Nov. 15, 2010 OR when it hits 50 uses. You are free to use it as many times as you want, and tell whoever you want.