Hi everyone! Happy Friday!
I'm currently sitting in a Starbucks at Pleasant Hill, waiting for my car to be fixed. I felt a really weird wobble a couple months back, got it checked up, the mechs said it was nothing to worry about.... Last week, the wobble got bad, and last night, it was... BAD.
I didn't have access to the wifi network at Brian's place (and neither did his laptop, the wifi at the place he's staying hates us... haha) so I waited till this morning, went to Borders' to use their internet (and to enjoy a peppermint mocha, it's my fav!) to find a place where I could get an oil change, and figure out what's wrong with my car.
Turns out, I need to get a couple of things done
1. Oil Change (overdue, what I was there for): $30
And the unexpected:
1. front brake replacement : $200 < I'm going to hold off on this. I still have 2 months left on the brakes, :X
2. axle replacement, both sides : $440
OMG OMG OMG. I did not expect to to have to spend so much on my car today. I drive a 1997 Acura TL, and it's been an amazing, amazing car for the passed couple of years-- guess it's inevitable that it needs a major tuneup today :(
I was also extremely fortunate-- the wobble I felt was because the axles were close to break point. Had I driven it any more, it could have been detrimental to other and myself because it would have caused a major accident. I feel so fortunate right now.
Okay story aside...
I'm holding a small giveaway on twitter right now!
Follow me to be a part of it:
www.twitter.com/lisahqcd
All you have to do is ReTweet the tweet I made earlier today.
The prize is this pair of earrings: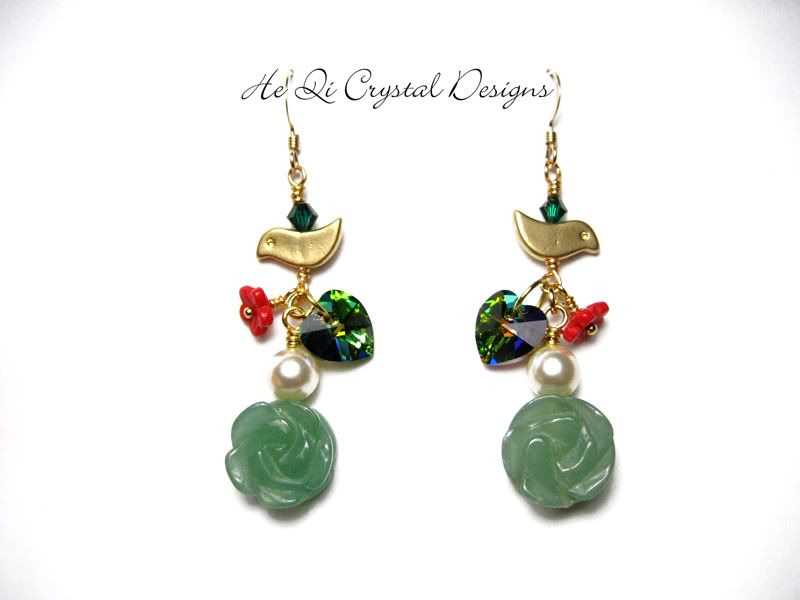 Yes, I'm obsessed with the carved flower beads. This particular piece features JADE.
Meanwhile, head on to
SHOPHEQI
and indulge in some handmade goodies. Holidays are right around the corner, and because He Qi gets backed up with holiday orders around this time, please place your order ASAP to ensure you receive them in time for Christmas!
I'll be posting my Holiday Blog giveaway on here sometime next week-- stay tuned!
Lisa


heqicrystaldesigns@hotmail.com


SHOP HE QI
TWITTER
FORMSPRING
Facebook