A lot of people bike in Davis. And for those of you who bike, you'll know EXACTLY what I'm talking about...
A couple days ago, a good friend of mine from UCI sent me some AMAZING Smashbox lipgloss in "Ravishing". It's now my absolute FAVORITE lip gloss. Not only does it smell YUMMY, but it's also not CRAZY blingy shiny, which I like. The color is also to die for. Anyway, enough about the lip gloss.
So I was wearing lip gloss, and biking. 2-3 minutes into my bike ride, something large gets stuck on my lips (lip gloss...)... A GIANT BUG. :LSJDFLKSJDLFKJSDLFKDJSF GROSS. I try to pick it off with one hand, will trying to steer with the other.
.... near the end of the bike ride, the same thing happens, but this time, it's a smaller bug, and I accidentally licked my lips, and ate it. -_-. Oh well, extra protein, right?
I've also had incidences where I've killed bugs with my EYES by blinking. It's kind of inevitable when you're biking-- maybe I should wear sunglasses or something-- but where does that leave my mouth? I don't really feel like inhaling bugs anymore, haha. I need to learn to keep my mouth closed, and apply lip gloss after biking :P
And a random life picture... haha!
A couple days ago, I got my NYX package in the mail.. YES, I gave in to buying 59 eyeshadow pigments! Guess what that means? Eyeshadow pigment samples will be included in all orders till I run out. Ladies who place larger orders will receive FULL SIZE eyeshadows!
But my roomates are cute, and made a stack of NYX: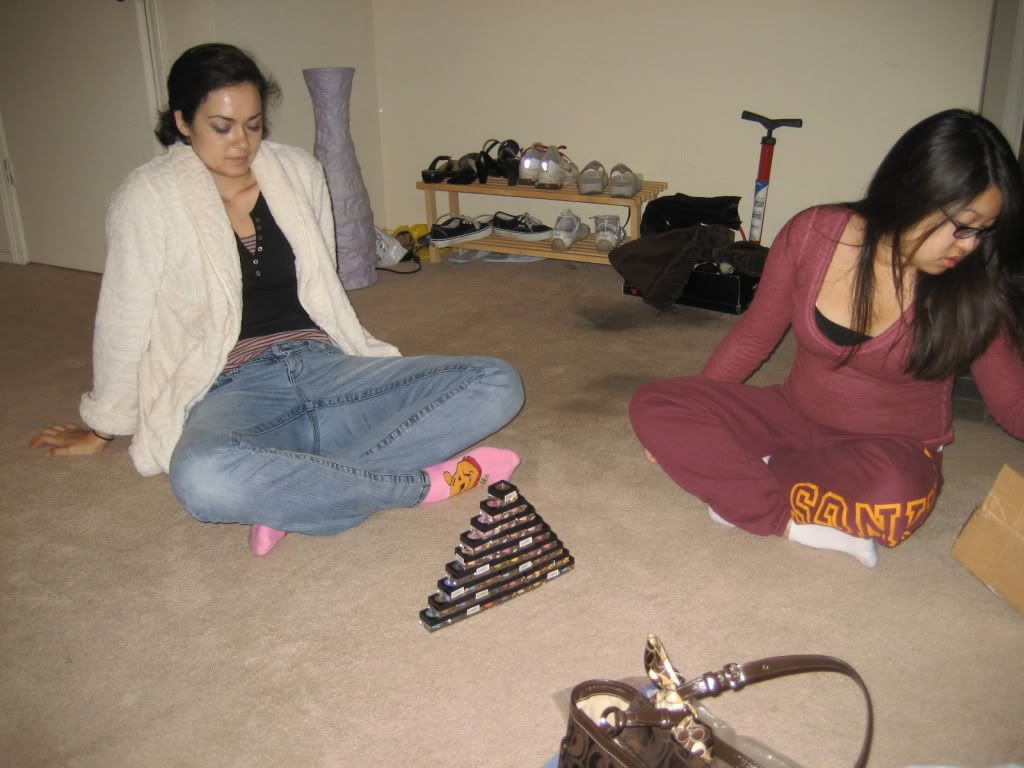 Haha!
****************************************************************************
Okay, so who's going to see Twilight?
I'm going to admit that the movies make me kinda cringe since I really adored the books, and the acting seems a bit stiff and awkward for me (don't kill me!), but I'm excited to see what the crowd will be like on opening day!
I found these WONDERFUL Swarovski hearts at my local bead store, and I only bought enough to make one pair of earrings: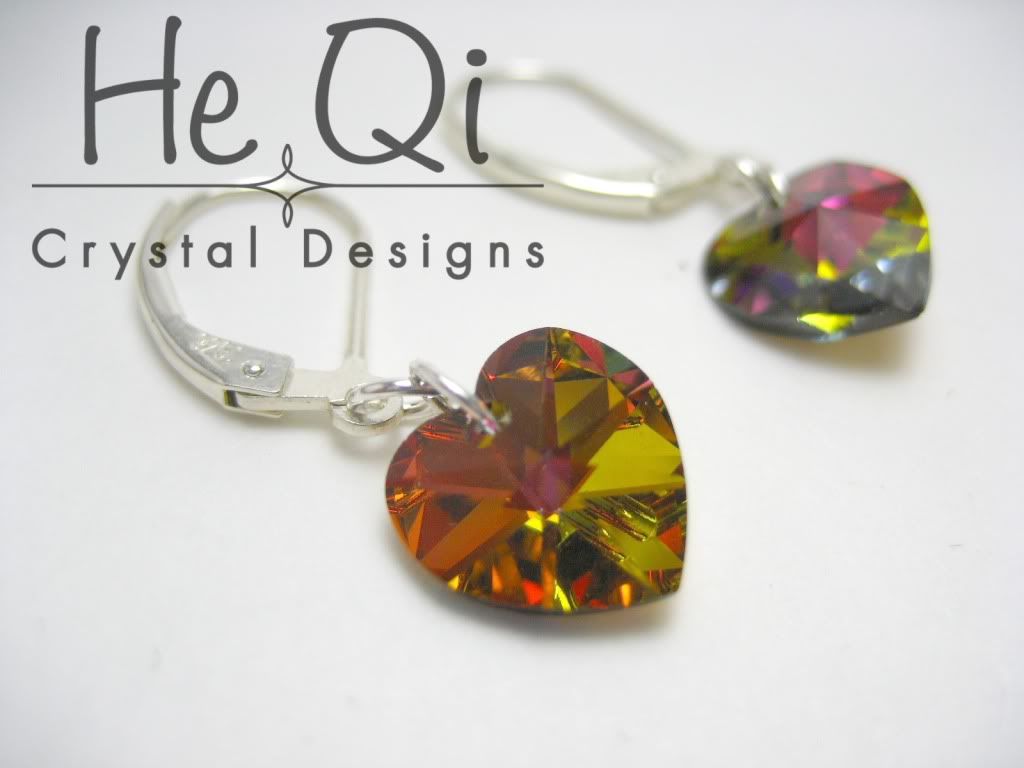 These are my one-of-a-kind Edward earrings. The color is SPAZZZZZZZZ. It's topaz like Edward's eyes, but it's also got an amazing red warmth to it. I wish cameras would show more realistic colors... but alas, we must do with what we've got.
And BELLA ring!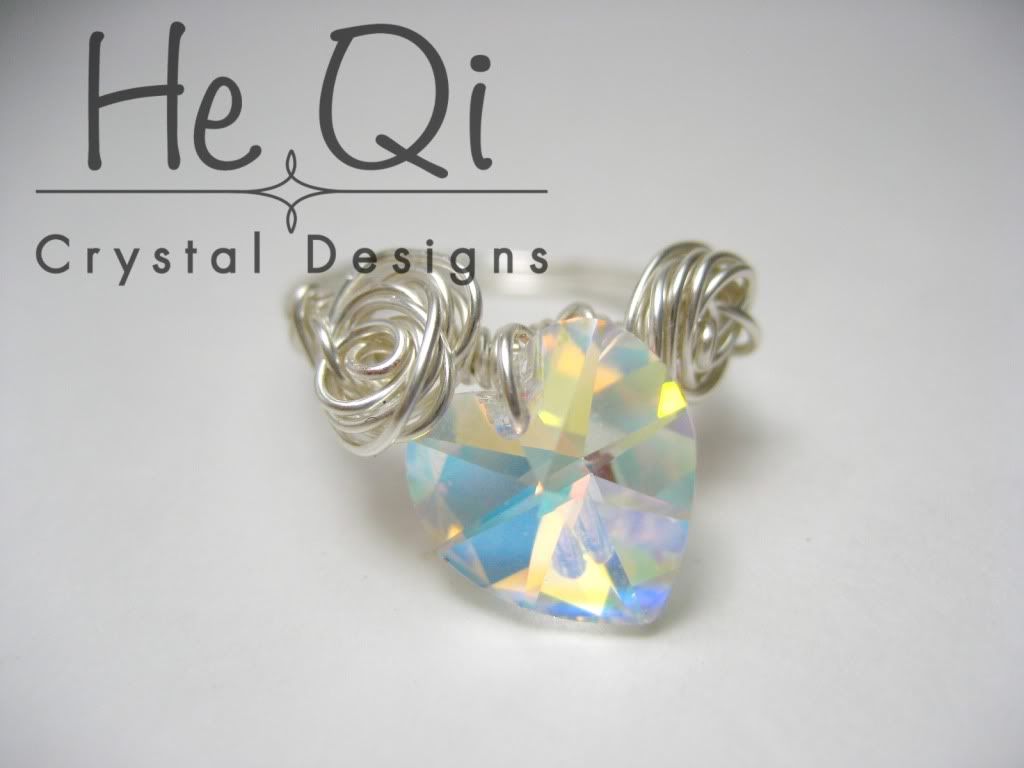 And just some really, really random rings I made. I don't know where the inspiration for these came from. It just came out this way when I was playing with my materials..
In case you can't tell, I'm on a ring binge :X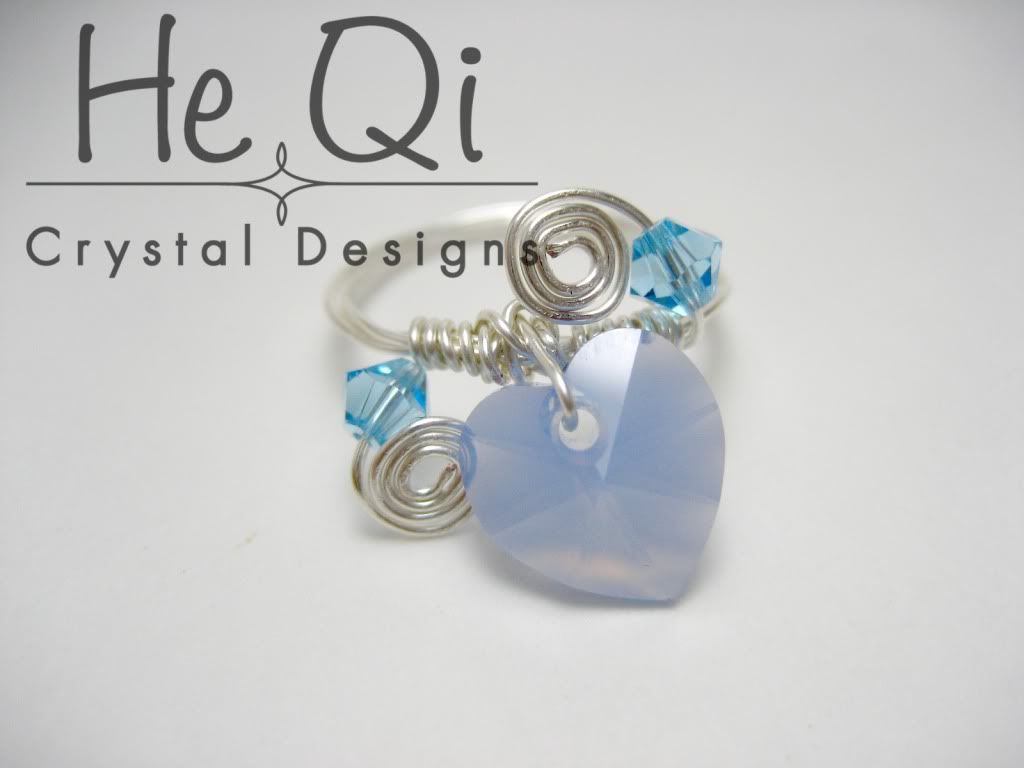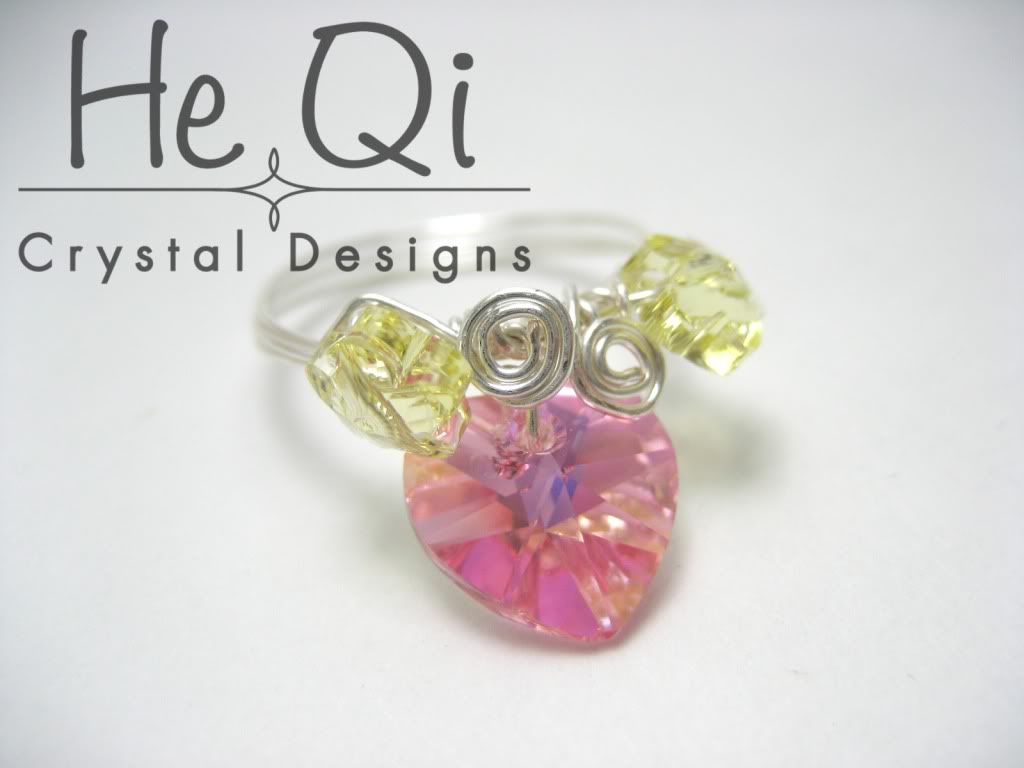 And for around only $10 each, they're STEALS for the amount of work I put into them! ::hint hint:: CHRISTMAS PRESENTS ;)
These are priced low because I'm not using sterling silver wire. If you want sterling silver, let me know!
And a really simple moon ring I customized for someone: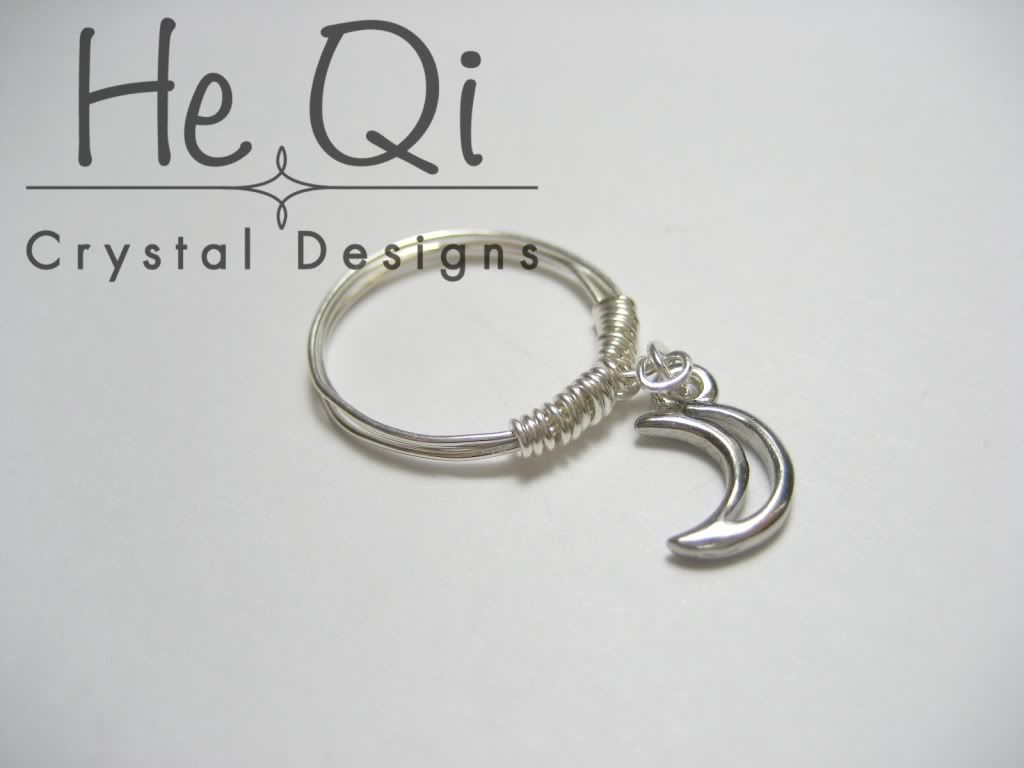 Christmas tree earrings! Only TWO pairs available!
High quality is guaranteed to last you many Christmases to come =)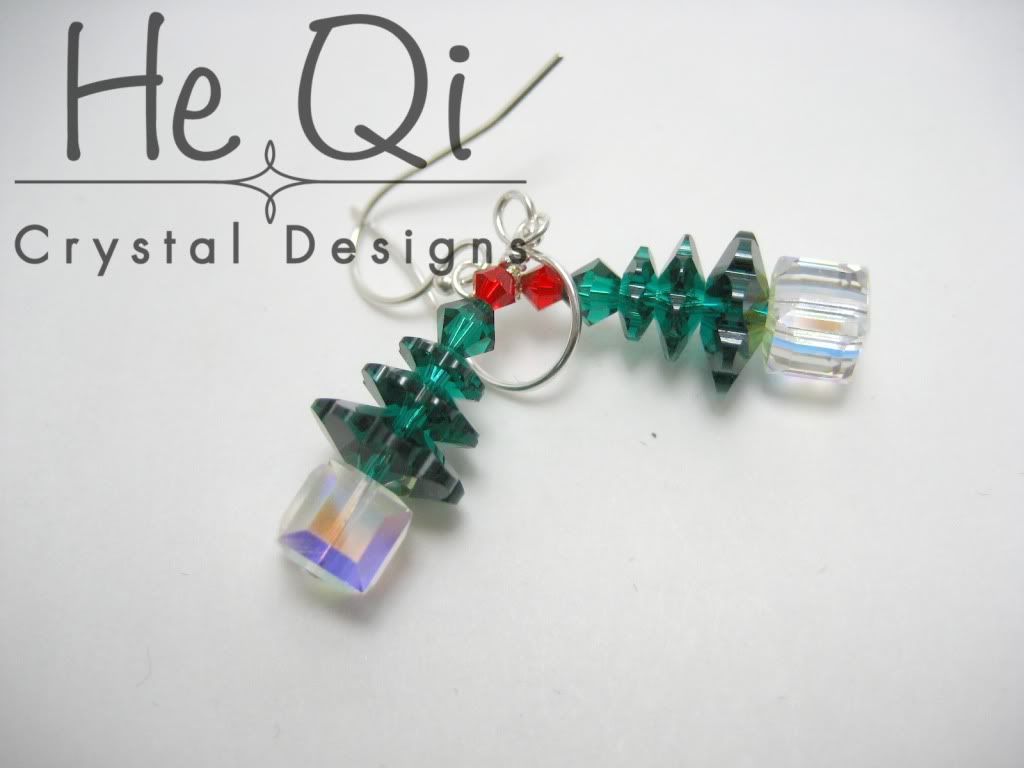 SPECIAL
: If anyone purchases any HOLIDAY jewelry, they'll get a FREE coupon code to use on their next order! Mention this discount in your comments at checkout!
There's also
THIS pair
of earrings available.
I'm also going to be doing a holiday giveaway soon... maybe in the next week or so. =)
Also, in case you guys haven't noticed, I'm offering FREE shipping from now till Dec. 26, 2009!
See the sidebar for more details! Please take advantage of this offer.
And remember to shop my
SALE
section for amazing deals! (and free shipping!) Everything in there NEEDS to go! Many items in there are priced at MATERIALS COST only!
Bulk orders will still qualify for discounts, ask me about it: heqicrystaldesigns@hotmail.com
till next time,
Lisa