HELLOOOOO everyone :D
I have finals this week, meaning all orders place between July 23- July 28 will be delayed about a week-- I'm sorry about that! I've been getting a huge influx of orders, but I really need to concentrate on finals for these couple of days. I'll get right back on it after tests are done. THANK YOU for your understanding!
I have one more week of summer classes, then I'll have a two month break after that, dedicated to taking HQCD to a new level of awesomeness. THANK YOU ALL for being there for me as a lot of changes happen, and the mineral line gets launched ;) Currently working on giving all my colors permanent names, labeling, mineral veils and foundations.
I also made a primer-- I think this works wonderfully as a base for your eyeshadows. It helped my shadow go on more vibrant and also kept it on all day. I dare say it rivals UD's PP! :X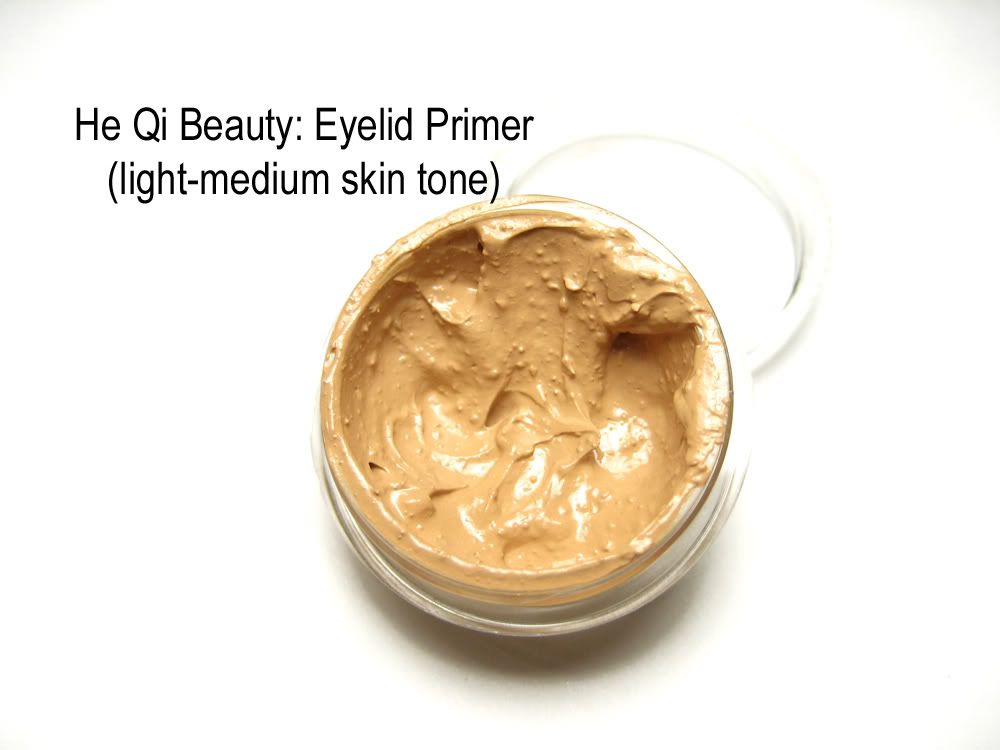 Get it
HERE
.
I will have more feather earrings, as Jen is wearing here,
in TWO WEEKS. PROMISE. Just keep an eye out on the blog for the update, or my
Twitter
, or just directly from the
website
.
BTW, I made a
formspring,
ask me anything you're curious about, and I'll try my best to answer =)
Also, I'm very honored that I've been blogging a year, and have managed to have 500+ followers! I'd like to thank all supporters with a ..
HQCD 500+ Follower Giveaway
Prize Pack: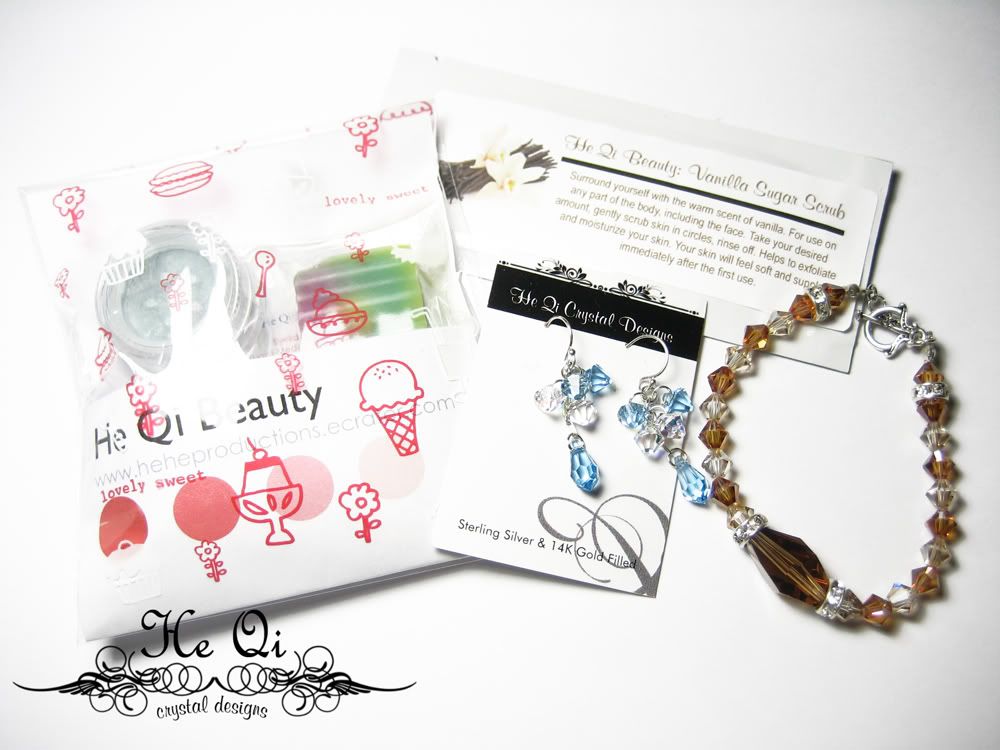 Includes:
1. HQCD Bracelet
2. HQCD Faerie Drops Earrings
3. 2 x He Qi Beauty Eyeshadows (BTW, isn't the packaging cute? haha)
4. Vanilla Sugar Scrub Deluxe Sample
5. Sample of eyelid primer and Tropical Paradise Soap
Value: over $80 USD.
Open July 25, 2010 - August 10, 2010
Rules of Entry.
1. Must be a follower of this blog
2. Must be 18+yrs of age, or have parents' permission to enter
3. Open to residents worldwide
How to Enter:
Firstly, EVERYONE must leave their first name and email address. Please continue reading to see how you can earn entries into the giveaway =)
For 1 Entry, please fill out this simple survey & post it in the comments section:
1. What is current favorite item on my website?
2. Are you interested in He Qi Eyeshadows?
3. What are your favorite eyeshadow shades?
4. How did you hear about HQCD?
5. What would you like to see more of at HQCD?
For 1 Additional Entry:
Spread the word about this giveaway by tweeting, reblogging, faceboking, etc!
For 2 Additional Entries:
Review your He Qi Experience through your blog/youtube/whatever social media.
Please be thorough and honest. This must be a review that was done on July 25th, 2010 or later.
For 4 Additional Entries:
Make a purchase from the Website, and let me know you'd like to enter the giveaway
Winner will be announced after August 10th on THIS BLOG-- come back here to see if you've won!
Good luck, everyone! Talk to you all later after my finals,
Lisa
Click to Shop
heqicrystaldesigns@hotmail.com