This giveaway is CLOSED! Thank you all for participating.
December 10, 2009
Hello everyone =)
Thanks for stopping by and supporting HQCD! I really appreciate every single one of you who take the time out of your day to come read this blog :D
This giveaway is basically a reader appreciation giveaway, open to anyone who follows my blog.
Here's the prize: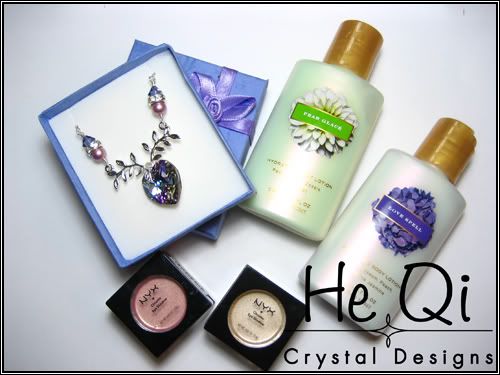 Prize Pack includes:
1. HQCD Signature "Romance in the Forest" necklace in Purple Vitrail Light
You can get more details on the necklace
HERE
. A $34 value!
2. NYX Eyeshadows in Apricot and Panic.
3. Victoria's Secret Hydrating Body Lotions in "Pear Glace" and "Love Spell".
Rules of Entry:
- You must be at least 18 years of age, or have parental consent
- Open to residents world wide
- Giveaway begins on December 10, 2009, and ends on January 5, 2010.
Winner will be randomly drawn by random.org after Jan. 5, 2010.
How to Enter:
- You must be a follower of this blog.
- Earn your first entry by leaving a COMMENT here with you name and email address.
- Earn an additional entry by spreading the word by writing an blog entry about it, tweeting, facebooking, myspacing, whatever. Make an additional comment with the link to your "spread the word" entry here, again, leaving your name and email. You may earn up to 3 of these kind of entries during the entire giveaway period.
If anything is unclear, or you have any questions, let me know!
- Lisa
heqicrystaldesigns@hotmail.com
Don't forget to follow me on Twitter for random giveaways/coupons when I reach 100 followers!
http://www.twitter.com/lisahqcd
And visit my shop! It's not too late for US customers to place an order for Christmas!
http://www.heheproductions.ecrater.com