Firstly, thanks to everyone who expressed their feelings about free shipping-- I'm looking to mark up each item about $.50 - $1 to slowly change everything to free shipping.... you actually save more this way than my current method ($3 for the first item, $1 for each additional). There will be no more "hidden" fees, and what you see is what you pay, regardless of where you live in the world. It'll take a couple of weeks for this to take effect, though! Hang in there with me =) Many of the items in my shop did NOT increase in price, so I'll just absorb the S/H =) I think this will just make things easier for both of us =)
Anyway....
I'm very excited for the debut of a new HQCD signature piece-- truly a classic, truly unique.
Say "hello" to HQCD's Signature Super Nova Necklace: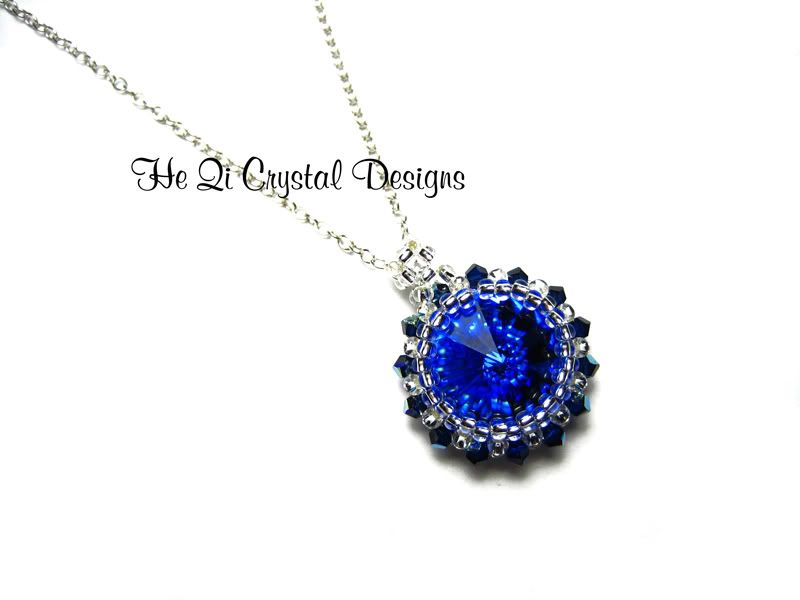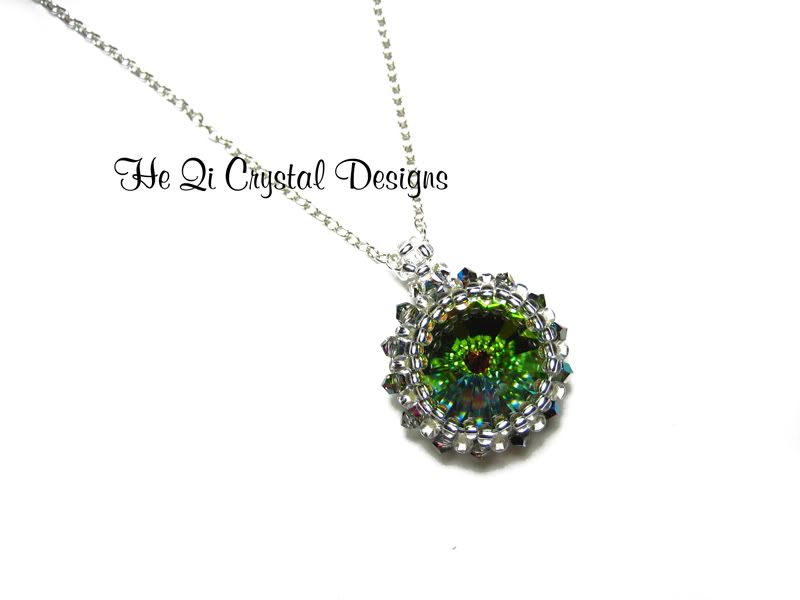 Inspired by the "burst" of Super Novas =)
It's a special SWAROVSKI rivoli bead with no holes, and a virtually un-scratch-able silver back. The bead frame is made with matching SWAROVSKI bicones and Japanese seed beads. It's beaded with fishing wire, and the whole design is beaded twice to ensure absolute durability.
I'm very proud of it =)
Here's what the back of the pendant looks like: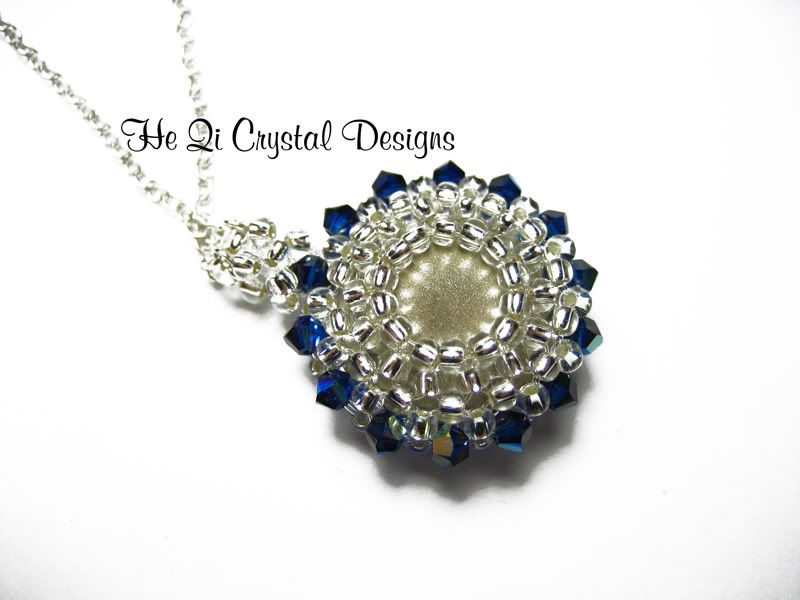 And modeled: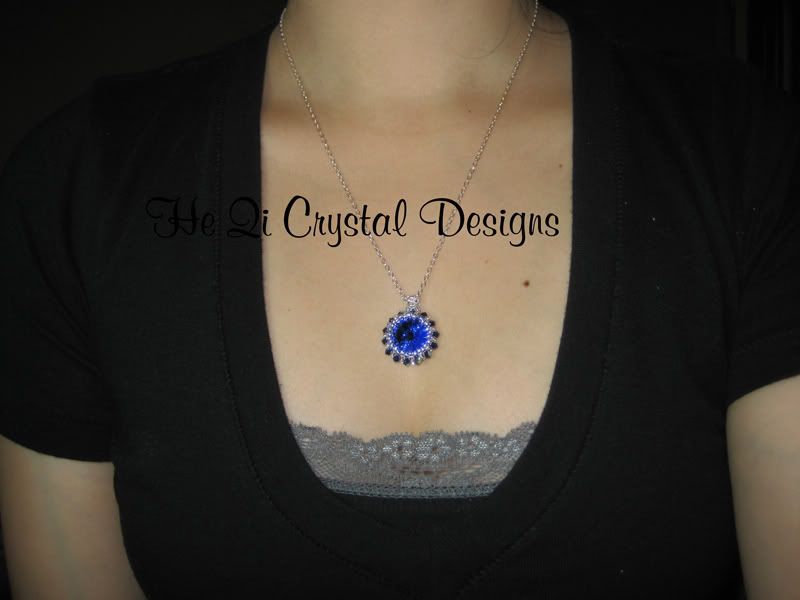 OH YES, other colors are definitely coming soon!
I'm looking for a MODEL to be the new representative of the Super Nova.
Entering into the small model search is simple:
1.
Be an owner of the Super Nova
, you can get yours
HERE
. (hmmm, ladies, you're missing this point!) I'd like my models to be genuine fans of HQCD.
2. Email me (heqicrystaldesigns@hotmail.com) with a request for "Super Nova Model Application"
and I will give you details from there. The Super Nova model will have all the perks of other HQCD models as seen on the side bar =)
Something else I made in the last couple of days: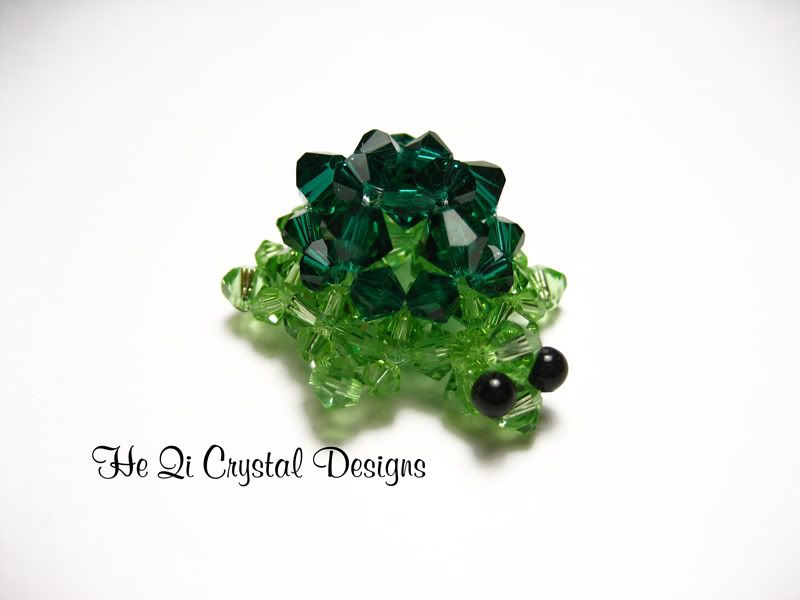 I love beading. It's a shame that it's so time consuming!
Signature Pearls: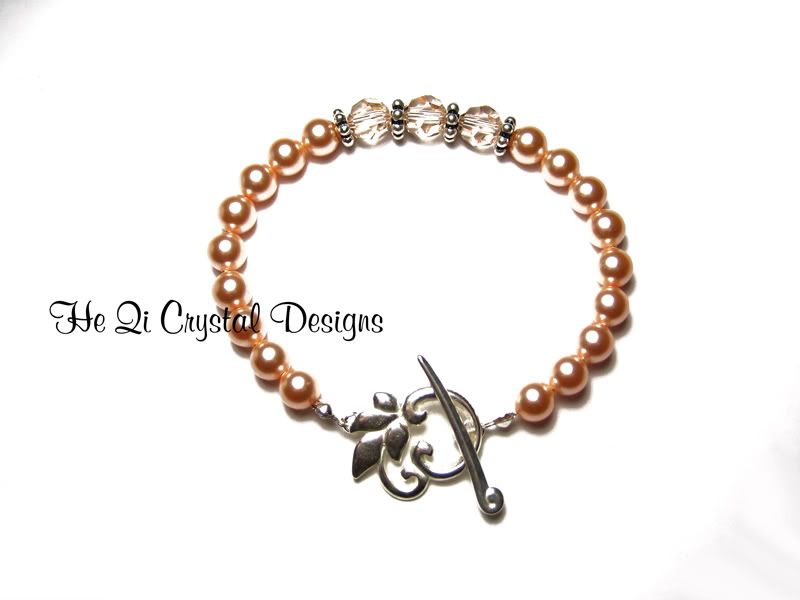 I have an obsession with peachy colors lately.....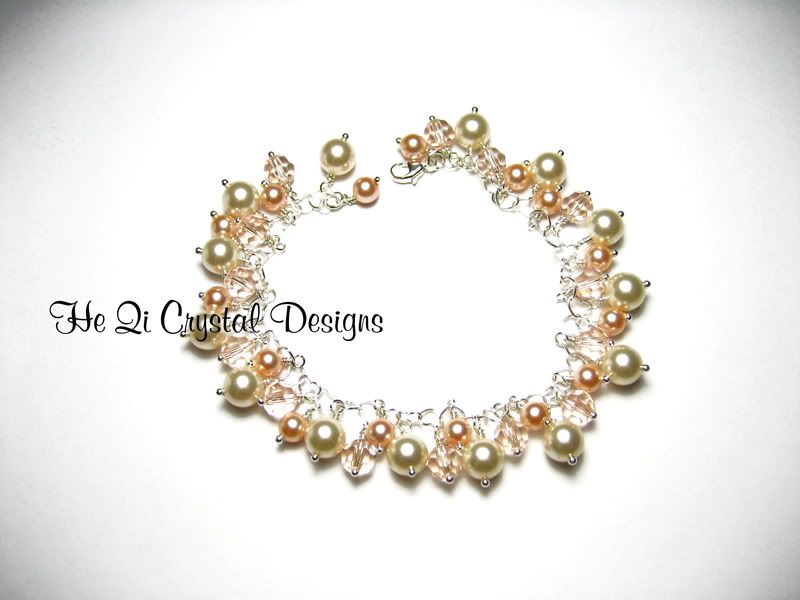 And a pink cluster that was requested by a customer =)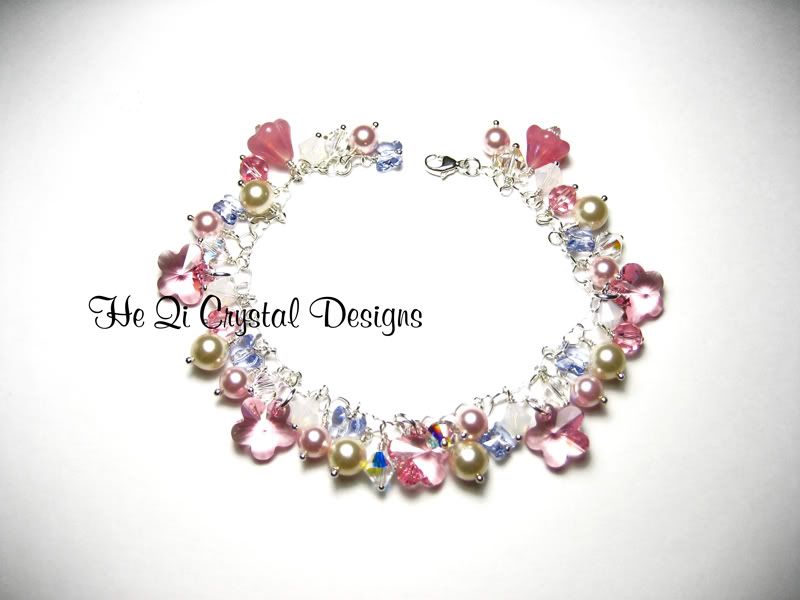 April is HQCD's anniversary month-- it's been 5 years since I've been in the online jewelry business, and I'd like to celebrate by having a larger giveaway :D. I know I had a mini giveaway earlier, but I love giving away stuff, so here's another, bigger, more formal giveaway!
First prize: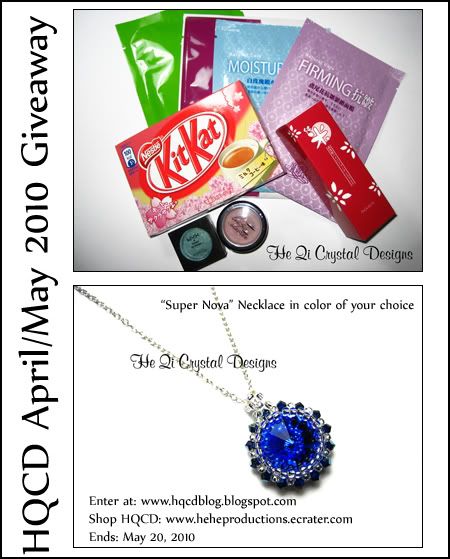 Includes:
- 4 Facial Masks
- 1 NYX Eyeshadow
- 1 Benefit eye shadow
- 1 Isqueen Rice Facial Wash
- Milk Tea flavored Japanese Kit Kats
- Your choice of color, and HQCD signature Super Nova necklace
Giveaway Guidelines:
- You must be at least 18 years of age, or have parental consent
- Must be a follower of this blog (you don't have to have a blog to follow)
- Open to residents world wide
- Ends on
May 20th
EXTENDED
May 30, 2010. Winner will be announced a few days afterwards.
How to Enter:
- The first entry is simple: leave a comment on this post with the link to your favorite HQCD piece from my
SITE
and your name.
- Earn (1) additional entry by spreading the word by blogging about it, tweeting, facebooking, myspacing, whatever. Make a
separate
comment
with the link to your "spread the word" entry.
- Earn (2) additional entry by LINKING to HQCD (either my blog or website) from your website.
- Earn (5) additional entries by making a YOUTUBE review of your purchase from HQCD, link me here.
- Earn (2) additional entries by making a BLOG review of your purchase, link me here.
Any questions? Let me know =)
love,
Lisa
heqicrystaldesigns@hotmail.com
Shop HQCD
HERE
.