Jan. 5, 2010
Hello everyone! Hope you had a wonderful new year!
Thank you so all much for the new year wishes!
I wanted to start everything off with some HQCD FAQs =)
My #1 most asked question...
"Lisa, where do you buy your materials?"
A: I get my materials from all over the world. I work with various suppliers from the US, Asia and Europe to bring you guys all the things you see in my work. Sorry, but the specifics are trade secrets =). I'm thinking about selling some jewelry kits and findings in the future... what do you guys think? =) Will you be interested?
"How do you pronounce HE QI "?
A: If you speak Mandarin, the PinYin for He Qi is He2 Qi2. But... I, myself, don't even really follow that. I say "Hee Chee" :D. And .... we can always shorten that to HQCD.
"Can you please lower the price of xxx?"
A: I put a lot of time and effort into my work-- I value what I do, and I hope my customers will feel the same way! Most pieces are not simple pendant necklaces or bracelets-- I try to offer you quality craftsmanship, whether that be wire-wrapping or beading. I give out discounts (either on my blog, or on Twitter), so visit often to keep yourselves updated!
"How long have you been doing this? How do you keep it up with school?"
A: I started making jewelry 2004... when I was a sophomore in high school. Before that, I was selling various handmade things (bookmarks, celebrity merchandise, since 2001!) on Soompi Forums. Currently, I'm trying to get my BS in Biomedical Engineering. Instead of the usual 4 years of graduation, I'm taking 5-- part of the reason why I'm able to keep this up. I truly love, LOVE making jewelry and meeting customers and friends.
"When is your website coming?"
A: Honestly? I have no idea. I've already finished the layout. I need to do the banners, fix all the information on it. Brian (the bf) has been especially wonderful through this whole process. He's the code savvy guy, so he's working out all the details for me. I'm having some issues with the checkout process.... Maybe in a couple months. Considering how school's starting, we won't have as much time to dedicate to this.
** Lisa's New Year's Resolutions
- Get back in shape! I used to run 3-4 times/week and do strength training on my off-cardio days. I wanna get back to doing either that, or Turbo Jam, and also picking up some Yoga.
- Get a 3.0 at some point. Without counting GE classes. Just counting core engineering classes. Doesn't sound like much, but it's hard, lol.
- Keep meeting awesome people on blog :D
- Get a new blog layout. Anyone have an suggestions? I want simple and clean =)
- Last but not least, of course, keep HQCD growing! Create more designs that are unique and one of a kind.
A little something special... in part to celebrate Valentine's early :D
Mini-Pillow Goodie Bag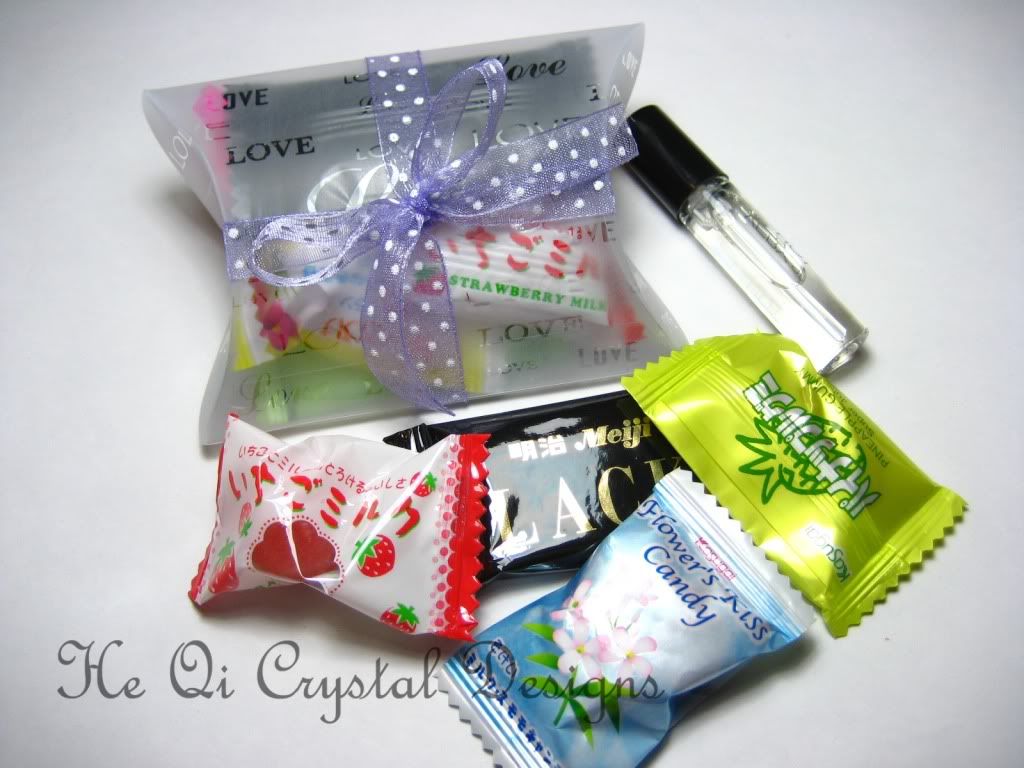 Includes:
- 1 vial random Victoria's Secret perfume sample
- 4 pcs Japanese candy (as much as the box will fit, sadly)
- clear "love" pillow box with ribbon
I always include some little freebies with my purchases, but this is just a cute little something extra to show you all my love.
Only 12 available! Will be automatically added to orders of over $20 while supplies last.
My quarter is heavy, with all engineering classes. I predict that I will be able to blog perhaps 1-2 times a week. Please keep your eyes on my
SHOP
for the latest pieces.
Remember, you can always get a fast response from me (for anything.. questions, comments, chat) via email: heqicrystaldesigns@hotmail.com